Cat's Pride Scoopable Fragrance Free
Flushable clumping litter instantly absorbs odors without any added perfumes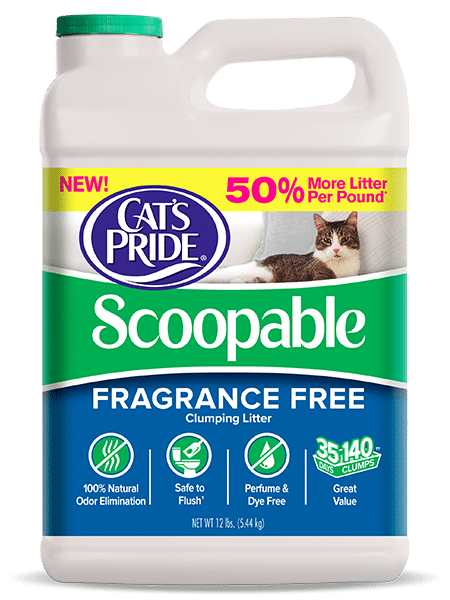 Cat's Pride Scoopable Fragrance Free is a flushable* clumping cat litter that instantly absorbs odors without any added perfumes. And it's up to 50% lighter!†
*Flushability has been tested using standard residential piping. For best results, scoop on a daily basis and flush no more than 2 clumps at a time. Septic tank system disposal was not tested and is not recommended.
Consult with relevant municipal authorities on flushing restrictions. For example, the State of California encourages putting cat feces in trash, and discourages flushing feces in toilets or disposal in drains.
†See product for details.
1
Cat's Pride Scoopable Fragrance Free
is rated out of
5
by
13
.
Rated

5

out of

5
by
DB59
from
Great Litter
I love this litter! I foster kitties for St. Louis Pet Rescue and go through a ton of litter every year! It is important to me that the litter has minimal dust and easy to scoop. Cat's Pride is both of these!
Date published: 2018-10-19
Rated

5

out of

5
by
AntarcticDream
from
Great value, great product
Love Cat's Pride; it's a great value and my cats (6) love it!
Date published: 2018-08-08
Rated

5

out of

5
by
SandraL
from
Outstanding!
I have One feline and One human who are VERY bothered by cat litter. The cat was nearly put down by a several visits to the vet...until I figured out her "allergy." It is not just removing the scent and dust...it is removing the CHEMICALS. This appears to have low chemical additives as it is the only cat litter product that doesn't bother them at all. Please never stop making it! As it is I have to order it on line now as my neighborhood stores do not stock it. Keep it! And, please do not raise the price as I rescue/rehome cats as needed. Thanks.
Date published: 2018-01-25
Rated

5

out of

5
by
Kitty486
from
My cats prefer this one
I live the light weight and my cats prefer the texture I think. Whatever he reason this is the litter they choose. I have tested several in different boxes and both use this over other litters.
Date published: 2017-05-29
Rated

5

out of

5
by
ConnieLynn
from
As close to perfect as I've found
Light Weight. 1/2 the cost of the other light weights. No scent. All natural. Low dust. Flushable. It's the texture of sand, and not as rough as other litters on my cat's paws, and never gets caught in her claws. It does get tracked, but I haven't found a litter yet that doesn't. I scoop every morning and sweep around the box, and that pretty much controls it. No problem with odor if you scoop and flush daily. If you don't, this isn't the product for you. I have 1 cat and one container of litter has lasted for a month.
Date published: 2017-03-23
Rated

5

out of

5
by
Charlie66
from
Very little dust!
The best unscented scoopable litter I've ever used! I've tried almost every brand of unscented litter available including the very expensive ones. None of them are dustfree, but this comes closest.
Date published: 2017-03-14
Rated

5

out of

5
by
KathyLWFL
from
Cat loves it!
I inherited my mother-in-law's cat when he was 13. He's 16 now. Until the lightweight unscented scoopable came on the market in my area this year, he had been very negligent to use the litter box to poop (that's thru-out his lifetime). Voila!! I put this litter in his box and now he's NEVER not used the box for everything. PLEASE do not discontinue this great product!!
Date published: 2017-01-30
Rated

4

out of

5
by
catlady20
from
Great product but need in larger boxes also!!
Have used this product several times now since it is almost impossible to find the regular Cat's Pride clay litter bags anymore. This does work quite well but since it is almost double the price of the regular clay litter it needs to be sold also in the much larger boxes so it is more affordable.
Date published: 2016-10-16
1
I need your msds sheet for this product how do I find it?
My cat does not like the feel of clay litter on his paws.  He was raised with an unscented more sandy type of litter that I can no longer find.  Can anyone advise which unscented litter has a more sand feel?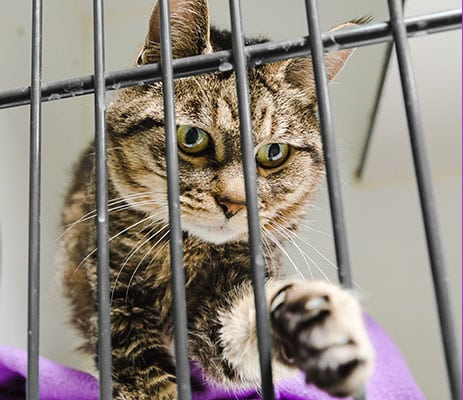 You buy a jug.
We donate a pound.
Click below to learn more about our Litter for Good program.
Join the
Cat's Pride Club.
Members get exclusive access to coupons and offers, and can help give back to local shelters.