Cat's Pride Lightweight Scented with Baking Soda
2X Power Advanced Odor Control with a fresh, clean scent and up to 50% lighter
Cat's Pride® Lightweight Scented with Baking Soda litter utilizes a highly advanced odor control technology with 2X Power to attack both urine and fecal odors, leaving your house smelling twice as nice. Plus, it is safe to flush*, and is so absorbent that one jug yields 140 clumps or 35 days of use†.
1
Cat's Pride Lightweight Scented with Baking Soda
is rated out of
5
by
1
.
Rated

5

out of

5
by
Lanmarkcem
from
Great new formula, Prob your best right now.
I notice this has been flying off the shelves & for good reason! not only is the packaging an eye catcher! But this even clumps better & cleaner most times then the quick action! I try everything new it seems like too & have wasted a lot of money on litter for my one cat trying every brand. I have came back to this one a few times & think I will just stick with it... Its also fresh without being overly perfumed but still enough as I like some scent, Tracks lower then the others & contains odors better! Only thing I wonder Cat's Pride is why major retailers like Walmart, Target, etc & Petsmart (which used to sell Cat's Pride stop!!? Assuming it was their choice but you should really ask them too again.. Otherwise at least here it's decently priced at Albertson's & on sale a lot too! Please do not discontinue this one or worsen it, The ones Cat's Pride doesn't advertise much also seem to be your better blends! Some of your other litters also cost more then this one & are not as good!
Date published: 2018-11-22
1
hello, i was buying this brand of cat litter right from the start when it came out, sense then you have changed to color & had done something different to it & it is not as good any more, is it going to go back to the light gray color and smell soon?
We greatly appreciate your feedback and question. Please be advised that this product's formulation and performance has not changed. The clay color can vary... From time to time we produce this product from our Mississippi plant which naturally offers a darker color clay. Additionally, the product is also produced from our Georgia plant which naturally offers lighter color clay. The MS plant code can be noted on the package as: BMPxxxxxxxxxx. The Georgia plant code can be noted as: GA or GS xxxxxxxxx. Thank you for your continued support of Cat's Pride® products. Consumer Relations/ODC
Date published: 2019-02-20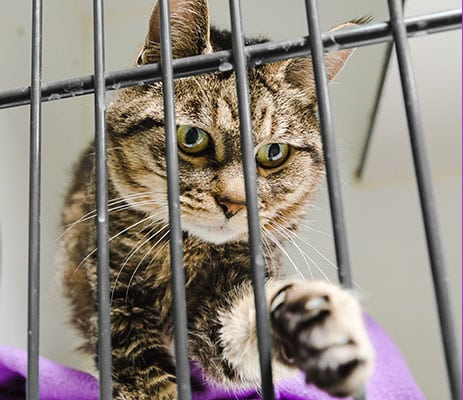 You buy a jug.
We donate a pound.
Click below to learn more about our Litter for Good program.
Join the
Cat's Pride Club.
Members get exclusive access to coupons and offers, and can help give back to local shelters.