Cat's Pride Litter Box Liners
Thick & tear-resistant for quick & easy disposal
Cat's Pride Litter Box Liners are thick, tear-resistant liners that prevent any cat litter or waste from sticking to the sides and bottom of the box – and your cat won't claw them to pieces either.
To dispose, just grab the drawstring, pull and toss. Quick. Simple. Clean.
Thick & tear-resistant
Drawstring closure
No sticking, no scrubbing
Hassle free clean up
15 liners per box

Available Sizes
36 x 18 in
1
Cat's Pride Litter Box Liners
is rated out of
5
by
4
.
Rated

5

out of

5
by
Lilly_love
from
Cats pride jumbo liners
These are the best by far!!! Easy cleanup no mess grab and go clean box every time. Best part fits my Bambinos litter boxes;)
Date published: 2016-07-29
Rated

5

out of

5
by
A11eycat
from
Best bags I have used!
I have been using these bags about 10-11 years, they are the only ones strong enough for two toms and a female, all the rest have failed. they are large enough to put about 12-15 lbs of litter. Great product and you get a less expensive bag that is stronger bigger and much better made! Why use anything else that's inferior?
Date published: 2016-07-10
Rated

5

out of

5
by
jeffreyhuman
from
Great product
Have used these litter box liners for several years. They are the only ones I have tried that fit the litter boxes easily, just takes a little tug on the drawstring and the fit is fantastic and the drawstring just tucks undder the edge of the litter box. And most important to me, the price is reasonable. The liners are strong also.
Date published: 2015-07-01
Rated

2

out of

5
by
Steffy
from
Disappointed
I have been using (15) Drawstring Liners for a long time and very happy. The last two boxes I purchased it was noticeable that the quality of the bag had changed. I keep the cat's nails trimmed since I do them myself. Every bag has holes in them now. I can make a hole with a single swipe of my finger nail. New and less expensive material ? Too bad.
Date published: 2017-02-13
1
Is this product being discontinued? I cannot find it at my local Walmart and the Walmart online store only has two available. If this product is being discontinued ... what is the replacement product? FYI - LOVE THE PRODUCT USING IT FOR OVER 6 YEARS.
We greatly appreciate your feedback! For your reference, many Wal-Marts have replaced our Cat's Pride Liner product with our Jonny Cat Jumbo Liner product. Please contact us 1-800-645-3741 for more store information and for several coupons !! We hope to hear back from you very soon.... Consumer Relations/ODC Makers of Cat's Pride® & Jonny Cat®
Date published: 2018-02-19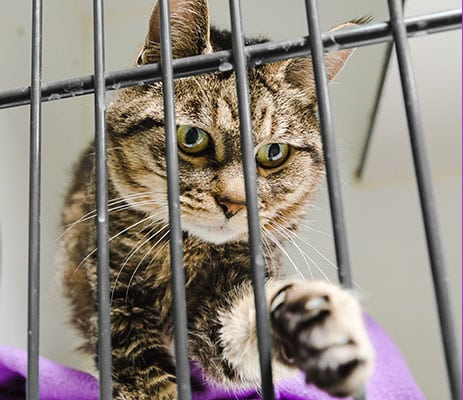 You buy a jug.
We donate a pound.
Click below to learn more about our Litter for Good program.
Join the
Cat's Pride Club.
Members get exclusive access to coupons and offers, and can help give back to local shelters.